I Feel so Free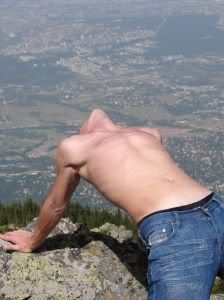 So Saturday was the big neighborhood garage sale and we had a ton of baby clothes, sheets, and toys to sell. These things are always big sellers on garage sale day, so I looked forward to getting rid of stuff we didn't use and make a little cash along the way. This is the only garage sale we have each year because of the sheer magnitude of it. Literally thousands of people come on this weekend. The traffic is horrible with our normal street turning into an unmarked one-way due to the number of cars there. The fact that we are basically trapped in our neighborhood that morning helps to motivate us to actually have a garage sale. After all, if thousands of people are going to be walking by, might as well see if they want our stuff.
Our method to select items to sell is pretty simple. As we clean the house and remove clutter, we pile the stuff we want to sell in the garage, on my project car specifically, which has the added bonus of giving me yet another excuse to avoid working on it. As we got closer to September, the pile in the garage grew so large that we added another pile in the entry way. I grew annoyed at all of the clutter building up around the house but I knew on the third Saturday, it would be gone.
So the day came. Actually on the Friday before, a good number of houses set things out for sale and people come, so Amy went ahead and put things out. It is actually a great way to get everything ready for the sale on the day before. When I came home from work, I noticed how much stuff we actually had to get rid of and it was a lot. That right there made me feel better, we were purging our house significantly.
Our neighbors had one of those 20-yard skid dumpsters in their driveway. They were cleaning up fallen limbs from our recent storms and just getting rid of the other junk they had that was too big to put on the curb. He came over and asked if we had anything we wanted to pitch into it. I looked around my garage and saw a handful of large boxes that I never got around to throwing away. There was the box our 8-foot Christmas tree came in, the box for the playhouse the kids have in the backyard, and one for Piers' tractor that he drives. As I hauled those next door I silently shook my head to myself. These large pieces of cardboard had been in our garage for years, just taking up space. I always meant to get rid of them, but never found the time, so they stood there, literally covered in dust. Just getting rid of those boxes opened up the garage. I wish I had pitched them long ago.
As nice as decluttering the garage was though, nothing compared to the entryway. I had gotten used to constantly walking around boxes of garage sale stuff, but as soon as it was gone, I felt … free. I was free to walk where I wanted. Free to not have a pile of crap sitting there every day. Free to enjoy the empty space in the entryway. That is why I declutter. That feeling of freedom is a literal, palatable feeling. My total stress level actually goes down when there is not clutter around.
So the garage sale went well, we sold a bunch of stuff and made more money than ever before. Hope had her lemonade stand again this year and made enough money to buy a game for the Wii that she wanted. Now, our garage is full of the things that didn't sell, but no worries. We sort out the stuff that would sell well on eBay or consignment, and then just box up the rest. The next time AMVETS, or the Society for the Blind looks for household discards; we give them a box or two. Goodwill is literally down the street from us and they'll get the rest. Soon it will all be gone and I'll get to focus on decluttering more of the house.
So I challenge you to attack the clutter in your house. Be set free.
Posted: September 22nd, 2008 under Possesions.
Comments: none