Finances and Kids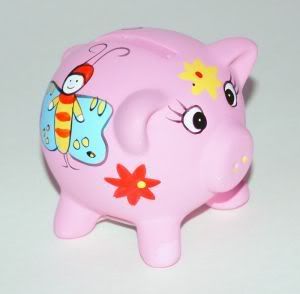 Earlier this week I was reading the forums over at the Art of Manliness (a great blog by the way) and someone asked the question "When is a good time to teach kids about finances?" The general response was "when is not a good time?" This really struck a chord with me because I've wanted to talk to my daughter, Hope, about money but since she is only 6 I wasn't sure it would stick. Still, in reading that post, it made me think about it more and I decided that even though she won't understand the details, she should understand the basics of a budget and when to save and when to spend. So, I've drafted up a plan.
A few weeks ago, our church gave special banks to every child in church that day. The bank is divided into three sections, one for long-term savings, one for giving, and one for spending. The idea being that the kids get into the habit of splitting up their money in such a way so that as they grow older and start to earn more money, they continue to save. We emptied Hope's other banks and divided her money into the three piles, explaining how and why we divided it that way. She had fun with it but I'm not certain she totally understood why she needed to do it.
So I am thinking about what exactly I want her to walk away with at this age. Growing up, I had no concept of budgeting. When I had money, I spent it. When I started working during the summers, I was always dismayed that my bank account seemed to hover around the $0 mark all the time. I could not (and didn't know how to) save.  Even when I entered the work force I couldn't save. It took me a long time to understand the root of the problem, I was simply spending more than I earned. I needed to spend less or earn more.
The major key to that epiphany was the monthly budget from Dave Ramsey's Total Money Makeover, which I've written about before. Doing a monthly cash flow budget made it a whole lot easier to save and also get out of debt. So what I wanted to get through to Hope is that the money you have is finite so you need to plan what you are going to do with it. I'll show her the amounts in my paychecks, and then how Amy and I have distributed it for the house, electricity, dining, tithing, etc. That way, I hope she sees that you need to plan what to do with your money if you wish to have any kind of success.
Will she understand it? Who knows, but it is the first step in getting her financially savvy. My goal is that by the time she graduates High School she will be the most financially responsible person in her class and she will never spend years trying racking up debt.
Posted: October 23rd, 2008 under Financial.
Comments: 1
Comments