Family History is Important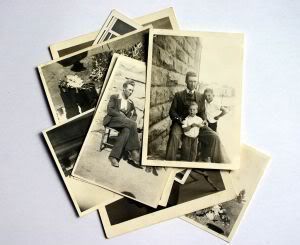 I typically talk to my grandmother every Sunday. She's 89 years old and still going strong so I enjoy catching up with her week and telling her about the latest antics of the kids. Yesterday we were talking and she was telling me the different things she did as a child that were so dangerous.  Apparently she and her brother would take a wagon (as in horse and…), remove the section that the horses connected to, move it up to the top of a hill, and then ride down the road at full speed, hoping no cars came by. Later she told me about the time her house and four others burned to the ground. It reminded me of when I talked to my grandfather about his service during World War II. He had all these interesting stories that I had no idea about.
And this got me thinking. How much family history is there that I have no idea about? What happens when my relatives pass away? Will those stories be lost forever? It is interesting to note that my parents know many of these stories, but they stopped there. Why wouldn't they? They aren't the kind of thing that comes up too often in casual conversation, yet still they are important. They tell us what our relatives were like in ways we could never discover otherwise.
Years ago, Amy received a copy of a diary written by one of her ancestors. We are talking entries that dated back before Oklahoma was even a state. The writer was one of the first female doctors in the region and it was full of interesting tidbits about life back then, things that probably seemed mundane to the writer but were impactful now. Not only do you read about a slice of life in a by-gone era, but you are actually connected to it by blood.
So, I encourage you to look around at your family members and start to collect information about their lives that you didn't know before. Jot down the interesting stories or record them on audio/video. History is lost when there is no one left who remembers what happened and no documentation exists. Be sure to not lose important family history. Thanksgiving will be here soon, maybe that would be the perfect time to put this plan into action.
Posted: August 25th, 2008 under Family.
Comments: none