Daddy-Daughter Time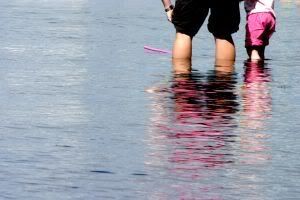 So I have two kids, Hope who is 6 and Piers who is 3. Piers is a Daddy's boy and just loves being around Daddy. Hope is quite fond of me too, but not to the extent of Piers. Since Piers is 3, he requires quite a bit more attention than Hope does so consequently, I tend to spend time with either just Piers or Piers and Hope. This has been bothering me a bit lately because Hope is just amazing and fun to be with. I want to do things with just her, but Piers would be greatly disappointed to not go with Daddy and Hope. Where can I find the balance?
My greatest concern right now is that I create a strong bond with my daughter that will last her entire life. I want her to trust me and turn to me when she is a teenager and thus I need to make inroads in that department now. I've made some solid strides in that area, but I need to keep working on it or else it will start to fade away.
When we had the garage sale last week, it was nice. Hope and I spent a lot of time out in front of our house, me selling our stuff and she selling lemonade. We talked about things, joked about things, and just spent a lot of good time together. That time together was so special to me, probably more so than for her, but she had fun too.
I will occasionally go to school and have lunch with her, but I really need to do that more often.  Every year around Valentine's Day, the city has a Daddy-Daughter dance that we go to. I dress up in my suit and her in a dress and we spend time together. We go out to eat before or after and just have a fun little date. She really doesn't understand the point of the actual dance but she does love being with her father.
Over the weekend I sat down and played Agricola with her. One of the nice things about that game is that you can play it solo so she and I teamed up and we worked on building a farm. She quickly grasped the concepts and soon appointed herself the keeper of the animals. She made sure we always enough, turned those we needed to into food, and otherwise managed our livestock well. The end result was one of the higher scores I've had in the game and she was proud of what we did together.
It is important to me to spend individual time with my children, and right now I feel that I'm favoring Piers over Hope, mostly due to his age. Of course acknowledging the issue is the first step in fixing it, so I'm off to make a plan and to spend more Daddy-Daughter time. What ways do you connect with your kids individually?
Posted: September 29th, 2008 under Family.
Comments: none