Do One Less Thing this Christmas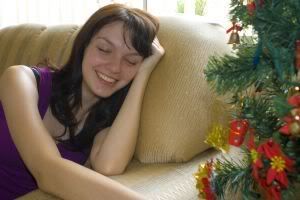 According to the stores, Christmas is coming. I say that because all the holiday decorations are up and Christmas music is already playing on the Muzak system. Granted, Halloween just happened and Thanksgiving is still two weeks away, but that is the retail sector for you. The start of the Christmas season used to mean the start of the busy season for me. I had so much to do and little time to do it. I figure there are three weekends in December before Christmas. All the Christmas parties I was invited to had to happen then. I had to find time to buy presents for everyone. I had to find time for the Christmas cards. I had to … well you get the picture.
Holiday stress is a common theme. In fact, soon you'll see news reports and magazine articles like "10 ways to beat holiday stress" or "Keeping the Grinch out of Christmas." I have often looked at ways of making Christmas less active and I tried lots of different things. One year I decided to order all of my gifts online. That actually worked pretty well. Another year I created a form "thank you" letter and incorporated a Word mail merge. That one went well until my various family members compared letters and noticed stark similarities. And one year I decided to forgo Christmas Cards. That one eliminated a huge time sink and saved some money as well.
Ultimately though, what I discovered that worked for me the best was simply doing one less thing this year than I did last year. Attend one less party, send one less gift, do one less activity. Each year I'd pare my activities down by one until I finally reached what I felt was a perfect balance of action and enjoyment. Since that time, I've rediscovered the joy of Christmas and now I don't worry about holiday stress.
Now is the perfect time to vow to do one thing less. Ultimately no one will remember if you missed a particular Christmas party and you will enjoy the season so much more. So pick the one less thing to do and enjoy a Merry Christmas.
Posted: November 12th, 2008 under Stress, Time Management.
Comments: none